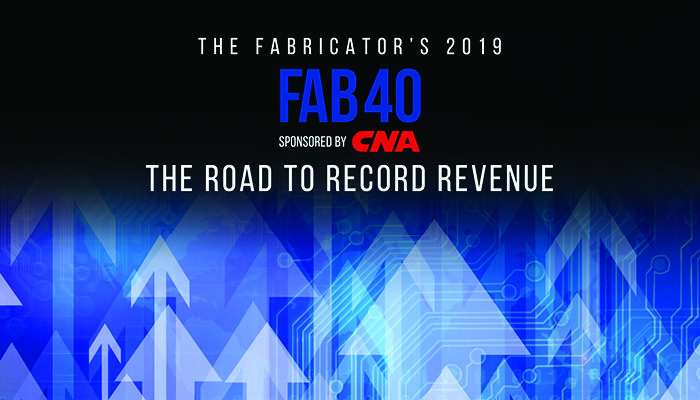 Top custom metal fabricators experienced record revenue numbers
Each year FMA's official publication, The FABRICATOR® magazine, ranks some of the top custom metal fabricators from the previous year and showcases them on the FAB 40 list. 2018 proved to be a year of great revenue growth for the custom metal fabrication industry. Congratulations to this year's FAB 40 companies, especially those that are FMA members.
The majority of the FAB 40 companies are privately held. This makes the FAB 40 a valuable tool for the market, giving metal fabricators insight into how some of the leading shops performed financially the previous year and what they're forecasting for this year.
Just five years ago, revenue numbers for the bottom half of the FAB 40 (starting at No. 20) topped out at $24 million in sales. This year, with many of the same companies participating, that figure is $45 million1 — that's an impressive jump.
It's worth mentioning that many shop managers in the FAB 40 don't expect to see as much growth the next time around. Recent weaker demand and tariff battles have some of the managers expecting negative impacts throughout 2019 and going into 2020.
On the other hand, some companies continue to soar — ranking No. 1 on the FAB 40, for nine years now, is Mayville Engineering Company Inc (MEC). MEC's 2018 revenue was more than $350 million. 2019 is turning out to be an even bigger year for the company. MEC had its initial public offering and expects to reach a revenue of $500 million.1
16 FMA Member Companies Made the 2019 FAB 40
Congratulations to the following FMA members who made the 2019 FAB 40 (in order of ranking):
Mayville Engineering Company Inc (MEC) — Mayville, Wis.
BTD Manufacturing Inc — Detroit Lake, Minn.
Standard Iron & Wire Works Inc — Monticello, Minn.
Robinson Metal Inc — De Pere, Wis.
Miller Fabrication Solutions — Brookville, Pa.
General Stamping & Metalworks Inc — South Bend, Ind.
IMS Engineered Products — Des Plaines, Ill.
EVS Metal — Riverdale, N.J.
DeWys Manufacturing Inc — Marne, Mich.
Special Products & Mfg Inc — Rockwall, Texas
Advanced Laser Machining Inc — Chippewa Falls, Wis.
Progressive Metal Manufacturing Company — Ferndale, Mich.
Laser Precision LLC — Libertyville, Ill.
Genzink Steel — Holland, Mich.
Metcam — Alpharetta, Ga.
Richards Sheet Metal Works — Ogden, Utah
For fabricators who continue to grow demand, their futures are looking very bright. If your company is interested in being contacted for next year's FAB 40, reach out to The FABRICATOR'S® Senior Editor Tim Heston.
1 "The FABRICATOR'S 2019 FAB 40: The Road to Record Revenue," The FABRICATOR, June 2019 issue.
https://www.fmamfg.org/blog/the-fabricators-2019-fab-40-has-been-announced