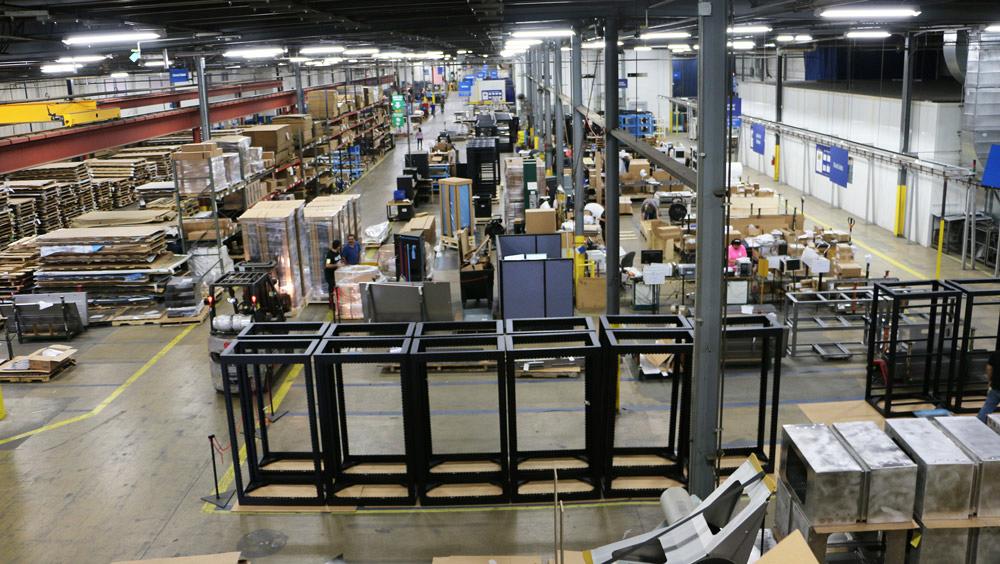 A metal fabricator you can't pigeonhole
IMS Engineered Products shows how fabrication fits into a larger whole
If you take the "L" in Chicago, you've likely used ticketing kiosks and walked through turnstiles. Both of these polished stainless steel products are fabricated by IMS Engineered Products, a custom fabricator with a 300,000-square-foot plant in Des Plaines, Ill.
There's nothing too surprising about that. Chicagoland has its fair share of custom fabricators, and kiosks are many a fab shop's bread and butter. But what's a little unusual is that the $30 million fabricator happens to be part of a larger, $170 million organization called IMS Companies. IMS stands for Innovative Manufacturing Solutions, which has a range of capabilities from custom wire harness manufacturing and production gear machining to high-volume stamping.
IMS shows how you just can't pigeonhole manufacturers in this business. Sure, small family shops still dominate metal fabrication, but custom fabrication can still occur in many types of operations: job shops, low-volume contract shops, high-volume production, and made-to-order product line manufacturing. IMS has combinations of all of the above.
Origins
Although its individual companies have histories going back decades, IMS itself started with Mark Simanton. An investor with a background in finance, Simanton formed IMS and purchased his first company, Exton Metal Products Corp., in 1995. Established in 1974, Exton was a manufacturer that specialized in custom fabrication and mechanical assemblies. In 1998 he purchased Electrol, a manufacturer of custom cable assemblies, wire harnesses, and electromechanical assemblies.
In 2002 IMS purchased Global Gear and Machining, and two years later purchased stamper Buhrke Industries. In 2008 IMS expanded further into stamping by purchasing Olson International, expanding its footprint to Mexico, merging it with Buhrke, and creating the company's current stamping subsidiary, IMS Buhrke-Olson.
IMS's current iteration of its metal fabrication business began to take shape in 2005 when it acquired AMCO Engineering, a producer of data enclosures; that operation merged with Exton to form IMS Engineered Products.
Running a Hybrid Operation
Over the past five years, the fabrication operation has increased revenue by 45 percent, and last year the company put a lot of that money back into the business. "We made a tremendous investment in capital last year," said Steve Tokarz, IMS Engineered Products president.
The fabricator added three new press brakes, a laser, and finishing and polishing equipment. It also upgraded its powder coating line. The company took delivery of another new Amada press brake earlier this year, and another press brake is coming in October. All new press brakes, he added, are being programmed offline.
The operation has three laser cutting centers and three punch presses feeding 17 press brakes and 12 welding bays. The fabricator offers wet paint and powder coating, silk screening, and electromechanical assembly.
Tokarz added that the company has benefited from its scale, not just of its own plant, but also being part of a larger, interconnected organization. "The scale of our company is greater than most in this business. We can run prototypes of a customer's product, run short runs through fabrication, ramp it up to high-volume stamping [at Buhrke-Olson], then ramp it back down [to lower-volume fabrication] near the end of the product life cycle to produce service parts."
The fabricator has two big product families: data center racks and enclosures under the AMCO brand name and Installer's Choice, lighter-duty racks for the AV business, a product line IMS launched in 2010.
About Design
"Because we have our own product lines, I have a lot of designers that help bring new products to market. So we can also use those designers to benefit our custom customers," Tokarz said, "whether it's to tweak designs or develop process improvements."
In 2011 the company formalized its design-assistance efforts and started offering a process based around advanced product quality planning, or APQP. It involves a cross-functional team that includes engineers, estimators, purchasing, and quality personnel.
"It has really helped attract customers to us," Tokarz said. "We can help develop products and bring it to market at the right price from the get-go, rather than going back two years later and trying to figure out how to take costs down. We've shown 30 percent cost reductions for some customers, and those numbers really help change their viewpoints."
The company first determines if a customer is willing to make design changes. For some projects—say, medical products that require FDA approval—customers may not be receptive to design changes, and understandably so, considering all the testing and regulatory requirements needed.
But for many customers, Tokarz said, offering APQP as a value-added service usually pays for itself in the long run. It helps attract more customers, diversifies the customer base, and forms closer customer relationships.
Custom Complements the Product Lines
Tokarz added that running a plant that's a hybrid, with both custom and product-line fabrication, helps balance capacity throughout the year. "If business is slow on the custom side, I have the product lines; if demand for the product lines is slow, I have custom business to feed off of."
In many ways, the demands for both the custom work and product lines resemble each other. "We build our forecasts pretty much on past history," Tokarz said. "And the rack business is pretty much project-based."
It's not seasonal as with, say, lawn and garden products. A large data center may be built and need a certain number of racks. The project then may be put on hold, "and you could wait up to a year to install more racks. That's why we build to order. And that's also why we've built our lean cell, which has helped us lower inventory and speed our time to market. Now we're building only what we need, and it has allowed us to be flexible."
Seven years go the fabricator invested in an online product configurator for its racking and enclosure product lines. CAD is built into it, so customers can actually see their products being designed in front of them. Once they see a final model and print, and verify all components are in the right location, they click "order."
Certain modular components are made to stock, so once that order is placed, workers pick those components, weld and grind them, coat them, and assemble them within two weeks. The fabricator's new lean workcell, dedicated to the AMCO product family, has a laser and punch press feeding parts directly into brakes, welding, and grinding. This allows employees to respond quickly to demand.
Quick response is what it all boils down to, really, and perhaps shows why IMS Engineered Products' hybrid approach has worked so well. Its engineers work with customers to take costs out of a product. That product may include other IMS company products, be they stamped components from Buhrke-Olson or wiring harnesses from Electrol. Drawings are approved, orders made, and disparate parts work together to speed that product to market.
View original story: https://www.thefabricator.com/thefabricator/article/shopmanagement/a-metal-fabricator-you-can-t-pigeonhole